Tag Archive | Vasari
Vasari is an excellent tool for design analysis and conceptually massing and energy testing. Although your results are not accurate enough to use for construction purposes, it is a great tool to compare different design options in order to see the affects of the mass or building in relation to the surrounding environment. If you are unsure how to set up vasari for energy analysis, you can view an older post here which will take you through the process step by step.
In this post, I will share a few massing tips and tricks which I have picked up through using the software.
Adding and editing profiles:

Adding a profile to your mass can dramatically change how the mass or building will look as you can see in the image above. In order to add a profile, simply tab through your selections until you can pick the whole mass. Click on Add Profile in the 'Form Element' tab and select where on your mass you want the profile to be. Once the profile is added you wil be able to DRAG the profile in all directions to pinch and push the mass in certain ways, play around with this until you get your desired shape. The Vasari starter screen was created in this way – Check out the Vasari talk here explaining how this was achieved.
Adding Edges:

Edges or vertexes are also used in Vasari as a way to manipulate your mass or form. As you can see in the image above, you can begin to turn a very ordinary rectangular block, into an abstract and more interesting shape to work with. Each edge in a Vasari project is editable, it is also possible to add new or extra edges to your mass in the same way as a profile. You can play around with these until you achieve your desired result.
Using 'X-Ray' mode:

X-ray mode in Vasari is similar to wireframe mode in a program like Revit. The main difference is the X-Ray produces 'nodes' on every edge and profile we have created, this gives us even more freedom to play around with the shape of the mass and create something truly unique. With these 3 tools along with the standard massing tools, it is possible to create almost any shape that you would want a building to be. 
Adding Levels: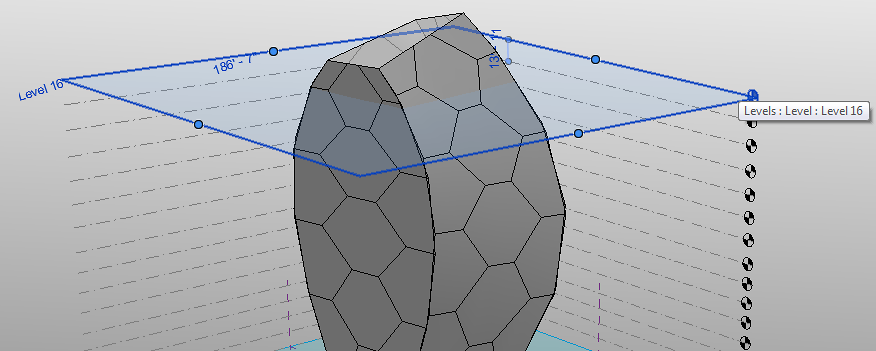 If you are testing out high rise buildings in Vasari, you may have say 20 or 30 levels or floors in your building. A quick way to add all of these levels, rather than manually adding them is to hold down the CTRL key and drag the levels up to the next position. This will copy the level and allow you to create mass floors. Although this method would not be suitable if you need to use precise measurements, it is more than sufficient when testing out different design options for energy consumption / wind simulation etc.
If you are looking for more detailed instructions and help with Vasari, you can either get in contact with me below, or watch some of the Vasari talks – These are a weekly webinar / meeting explaining different aspects of Vasari, all the way from the introduction right up to advanced modeling techniques. Check out the Revit Wiki Help page here to view all the previously posted Vasari talks. I will be posting some tips on creating panels in my next post. 
 You may also wish to check out the tips & tricks section on the Vasari forums here.