Tag Archive | iPad
I'm sure you've all heard of Autodesk FormIt by now – The new tablet based geometry creation application for designers. FormIt is the first 3D modeling tablet app aimed primarily at the AEC industry. if you haven't already seen FormIt in action you should check out the video below, but in short: It's a cut down version of Vasari with simple geometry tools (extrusions/voids) which are fully controllable via a touchscreen with your fingertips!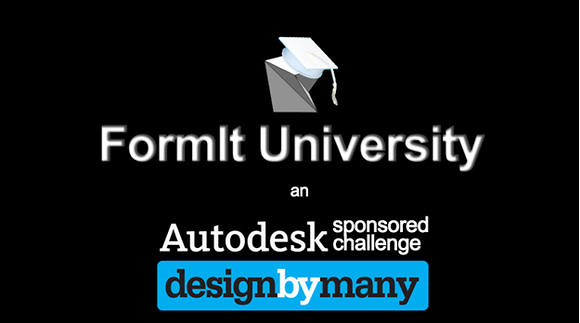 Well, designbymany have issued a challenge under the title 'FormIt University'. The competition is open to anyone (providing you own an iPad and a copy of the FormIt app). The brief is to design a school campus in Mumbai which will be assessed by a panel of familiar faced judges! There are no design limitations aside from a few requirements with rooms and meter squared usage. As far as the aesthetics of the campus goes, you are advised to create a unique building which will stand out as a land mark in the area. Exact coordinates are given in order to virtually locate your model accurately.
The winner of the competition will be presented with a full 1-year license of Revit Architecture 2013! An excellent prize, no matter who you are! As it stands, there are only 8 people participating in the challenge, leaving a chance for you to submit your design and stand a good chance of winning. If you have an iPad, download format and get modeling! The submission deadline is January 14th 2013 so I'm frantically trying to get my hands on an iPad before then :)
The video above is an interview from Autodesk University with Tom Vollaro, one of the developers of the app and a judge on the designbymany challenge (You may recognise him if you've been watching the Vasari talks). Tom has also been working on the development of Vasari, so the similarities between these applications is to be expected. You can also see a number of designs made with FormIt on YouTube, as well as some excellent tips on Dave Lights Everything Revit blog which is linked on the side of this page. 
Submission:
Post submission in .AXM file format (required)
Post images (required)
Post concept diagrams (optional)
Judges:
Rebecca De Cicco – KSS
Aaron Maller – Beck
Tom Vollaro – Autodesk
DesignbyMany Users – Community voting will be taken into account for the final winner
Deadlines:
All designs must be submitted by Monday, Jan 14th, 2012 @ 11:59 PM (GMT -4)
Community voting will end on Monday, Jan 21st, 2012 @ 11:59 (GMT -4)
See the full brief, view participants, judges and enter for yourself on the designbymany site here.
Autodesk have jumped the gun in the conceptual modeling mobile device 'race', with the release of Autodesk FormIt. FormIt seems, at first glance like a cut down version of Vasari, where you are able to model basic geometry, set a location and run basic conceptual energy analysis on your mass directly from your iPad. The fun in this is that you get to feel like your actually modeling it with your hands rather than a mouse.
"Introducing Autodesk FormIt. the 1st Architectural Form Modeler for the iPad. FormIt is an intuitive, easy to use mass modeling application helping designers make informed decisions while accessing site & climate data. The building and site aware app allows designers to sketch proposed design options that can be compared with program requirements and then shared with the project team for continued collaboration through Autodesk® 360. – Available now on the Apple App Store"
This is quite a step up from the current modeling tools which are available on mobile devices. Although I can't see people designing buildings and whole projects with this tool, it could certainly come in useful on site, and to test how specific geometry would perform in a specific location in relation to wind and solar analysis. I have not seen the app available on the App Store but I will post a link here as soon as it's available.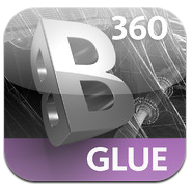 The eagerly awaited Autodesk BIM 360 Glue iPad app has finally been released! The app appeared in the iTunes store yesterday morning and was officially released on Twitter via a statement from @Navisworks around 16:00 BST. Unless you've been living under a #BIMrock the past couple of months, you will have heard a lot about BIM 360 Glue, and the app release on iPad is an exciting development from the Autodesk team bringing the cloud based management system on to the site!. 
BIM 360 Glue is a cloud-based management solution for building and infrastructure projects that provides easier access to project models and data to support collaborative, multidisciplinary workflows across authoring tools and project control applications. It enhances cross-team coordination globally as updates are immediately available in project models. More information can be found here: BIM 360 Services.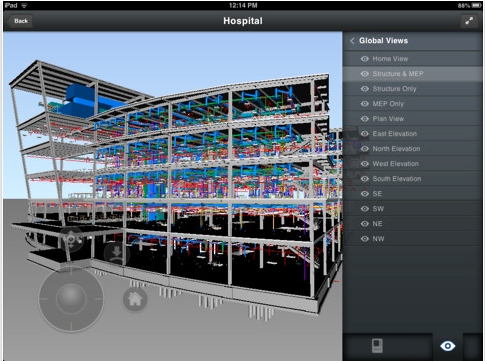 "The Autodesk® BIM 360™ Glue mobile app enables BIM 360 Glue users to more securely access Building Information Modeling (BIM) projects from anywhere, at any time. Building, infrastructure, design, and construction professionals can access and intuitively explore multi-disciplinary models online or offline, access all saved views, and review intelligent object properties." 
You can download the FREE app today and try it out for yourself from the iTunes store here. You will need an Autodesk ID to log in and upload projects from your computer which will then be synchronised and made available on your iPad.