Tag Archive | BIM 360
Like it or not, as a technology professional, the cloud WILL become part of our every day work in the near future – if it's not already! Many applications which you currently use may already use cloud technology without you even realising it. Security issues are of course a big concern when moving forward with tecnolgoy and into new ways of working. There are many questions that need to be answered in order to make the cloud user feel like their sensitive data is secure.
Autodesk 360 is a completely cloud based service – offering many tools for use in the AEC industry. The huge advantage of the cloud is the speed and efficiency. Instead of using your own PC for intensive tasks such as rendering and interactive energy analysis, you are able to utilise the massive power of the Autodesk cloud servers and computers. This will not only be a faster process, but also leave the computer your working on free for use on other activities.
Autodesk have released a document which was discussed on the 'Introduction to Autodesk BIM 360 webinar' earlier today, which was recorded and will be released publicly, next week (week 5). In this document 'Autodesk 360: Work Wherever You Are – Safely', it discusses the security technologies that are employed on the Autodesk cloud servers as well as suggesting that the cloud is a SAFER way to transfer and share files than the traditional methods we are used to: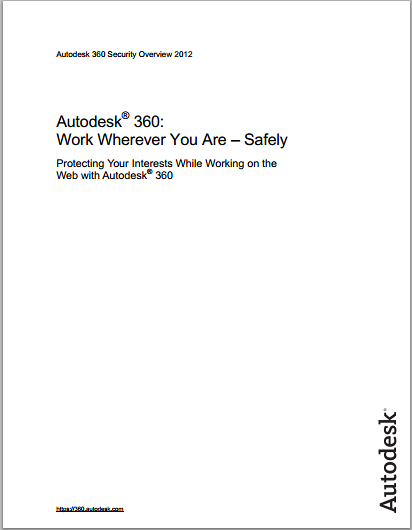 There"s trust in being close. Many people associate their local workstation"s or PC"s content as safer than their files on the Internet. This isn"t always the case. Often computers are susceptible to security risk because their files aren"t fully protected against unauthorized access and intrusion. Furthermore, as files are transferred across the networks, they can become compromised if not done so in a secure manner. With Autodesk 360
The platform is built on a reliable, protected technology infrastructure specifically built just for cloud computing. 
You control who has access to your data, when you share it, and who you share it with.
You can access it from anywhere through an Internet connection after providing your login ID and password securely.
The services are designed to protect data and authentication in transit.
For more information, read the full .pdf document on the Autodesk website HERE or by clicking the image above.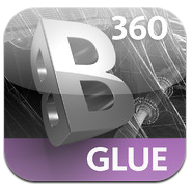 The eagerly awaited Autodesk BIM 360 Glue iPad app has finally been released! The app appeared in the iTunes store yesterday morning and was officially released on Twitter via a statement from @Navisworks around 16:00 BST. Unless you've been living under a #BIMrock the past couple of months, you will have heard a lot about BIM 360 Glue, and the app release on iPad is an exciting development from the Autodesk team bringing the cloud based management system on to the site!. 
BIM 360 Glue is a cloud-based management solution for building and infrastructure projects that provides easier access to project models and data to support collaborative, multidisciplinary workflows across authoring tools and project control applications. It enhances cross-team coordination globally as updates are immediately available in project models. More information can be found here: BIM 360 Services.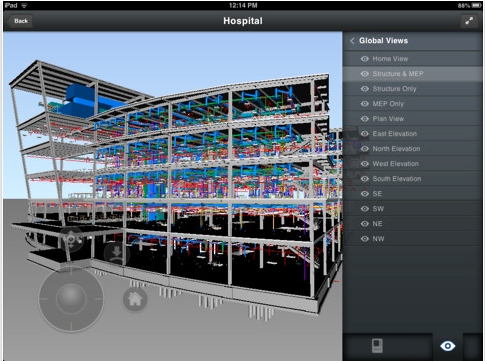 "The Autodesk® BIM 360™ Glue mobile app enables BIM 360 Glue users to more securely access Building Information Modeling (BIM) projects from anywhere, at any time. Building, infrastructure, design, and construction professionals can access and intuitively explore multi-disciplinary models online or offline, access all saved views, and review intelligent object properties." 
You can download the FREE app today and try it out for yourself from the iTunes store here. You will need an Autodesk ID to log in and upload projects from your computer which will then be synchronised and made available on your iPad.
Paste a Video URL
BIM 360 is a new technology recently released from Autodesk, A seemingly useful tool for BIM managers for overall project review and mark up. It is based on the Autodesk Vault technology, and is likely to be a key tool for future BIM projects.
Working along side existing technologies such as Revit, BIM 360 allows users to merge and align models, review clashes, reviewing model and integrating with CMiC. If you are already creating projects in Autodesks – Revit, Navisworks or AutoCAD there is a simple add in which you can download that will then get added to the addins menu on your ribbon. Simply click on this button in the ribbon to begin reviewing the project in Autodesk 360.
Autodesk®BIM 360 is Autodesk's vision for collaboration and data management in AEC, which is exactly the new approach described above: provide AEC project teams with a complete,accurate, digital view of their project, with access to information across the project lifecycle.
For more information on Autodesks BIM 360 software click here to see the BIM 360 Autodesk Whitepaper
View more videos about Autodesk BIM 360 here YouTube playlist BIM 360.