Single day solar study – Animate your Elevations in Revit
Are you looking for a way to present your elevation views in Revit? Find the default view a bit boring? Well here's something new you can try. There are many different graphic display options which you can set within Revit to make your views more aesthetically pleasing. We all know about turning on/off shadows and changing from hidden line to realistic with edges etc – But have you tried a single day solar study on your elevation view? If you'd like to know more continue reading!

Once you have selected which elevation you want to work on and on the correct view, head down to your view control bar and click on the 3D cube, as shown below. Click on 'Graphic Display Options…' to bring you to the next step. Depending on how you want your elevation to appear in your animation, you may wish to change the view to Realistic or one of the other options now.
For this example, I have decided to use a realistic style with Silhouettes set to Wide Lines. This will make the strong lines and edges of your buildings stand out more, similar to if you're hand sketching and you draw over and make these lines thicker to make the sketch "pop". If you have set up your own line styles, you will also be able to use them as an option.

You should now head to the Shadows tab and turn click the selection boxes for 'Case Shadows' and 'Show Ambient Shadows' – Cast shadows are the default shadows you will see when you turn on shadows from the view control bar. 'Show Ambient Shadows' are basically an extra layer of shadows on top, which particularly accentuate areas such as the area under the canopy as you see in the elevation view above.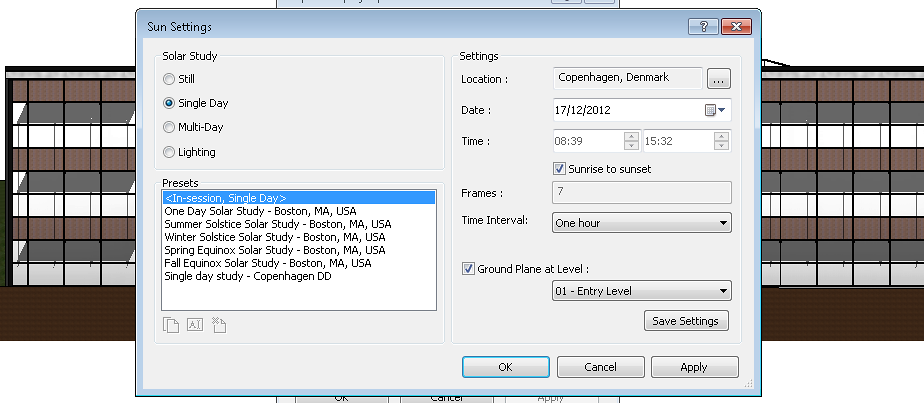 Now you have completed your shadows it's time to move on to 'Lighting' options. Here you have many options to create different outcomes – We are, for this example going to use the 'Single Day' study, this will generate an animation based on a single day, in a single location, between a time period (which we also decide). Set up the parameters so that they are according to your project. (Location and date should already be shown if you have set up your project correctly.) I have chosen the option 'Sunrise to sunset' which it tells us will record from 8AM to 15:30PM. Select your ground reference level, save settings and apply. 'Time Interval' is important and will determine the length of our final animation, set it from 15 minutes – One hour depending on how often you want to update your animation.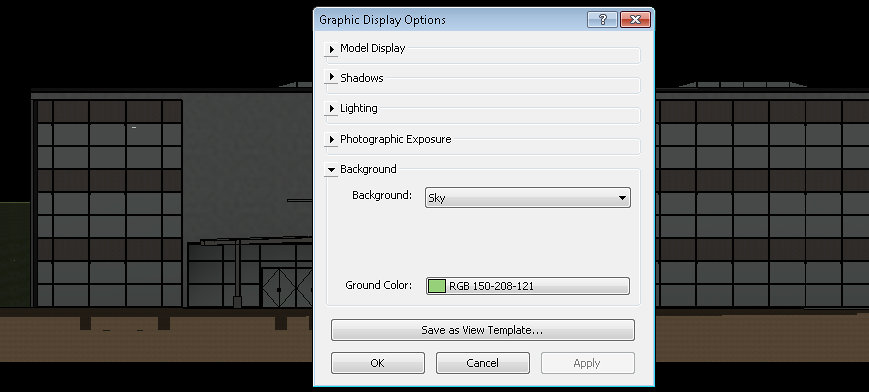 If you decided to use the same settings as me, you will notice your elevation now appears very dark. This is because we set our times from sunrise to sunset, with the first frame being at 8AM when it is still dark (you can revert back to your original settings at any time.) I have also turned 'Photographic Exposure' on and set it to automatic, this will make the view appear more realistic, but will also slow down the time it takes for your animation to be exported. Head to the 'Background' tab and select Sky in the dropdown menu (or use an image if you'd prefer). You may also wish to select a 'Ground Color' as I have above.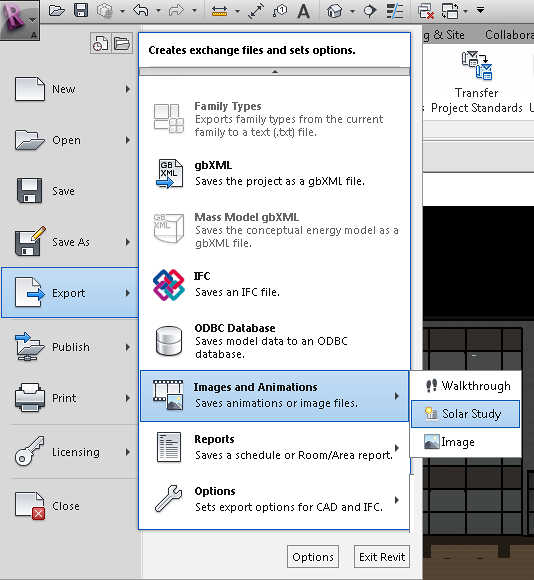 Now you have set up your elevation view, it is time to export the animation as a 'Solar Study' with an .AVI output, as shown above – Click on the Revit menu, head down to 'Export' you will then need to hover your mouse over the small arrow bar on the Export menu until you scroll down to 'Images and Animations' select 'Solar Study' where you will be taken to the next screen to set up your rendering options.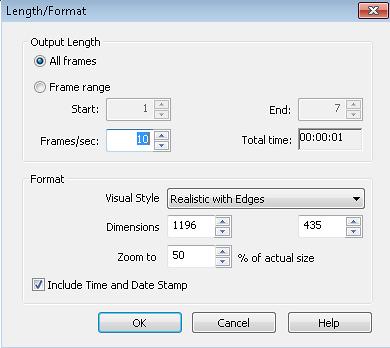 The next dialogue titled 'Length/Format' gives you options for selecting the size and length of your animation, as I have selected hourly intervals, if I select a high frame rate for example 50 fps, you will  notice the Total time: going to 0 seconds. In order to have a suitably lengthed animation, I have set the frames/sec to 10. Your visual style should already be set, and now you have to choose how big you want your animation video to be. For example purposes I have reduced the size to 50% of actual size. After setting up and hitting okay, you will be see another dialogue asking which compression method to use, in most cases 'Full (Uncompressed)' will be fine. Click ok, and wait for your animation to be rendered, this should not take long considering the low frame rate we have selected.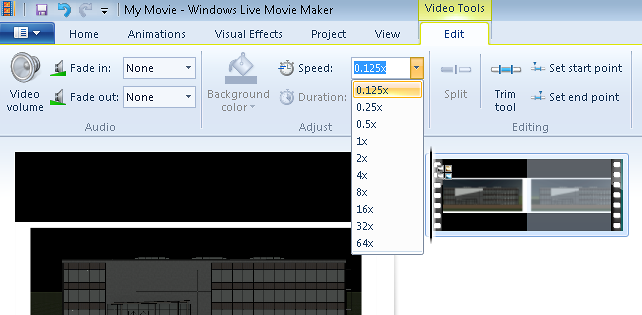 Your animation is now complete and saved to the directory you specified. You will notice that the length of the video is probably too short, you can use video editing software to slow it down to give a better result to view your single day solar study. I have for this example used 'Windows Live Movie Maker' as most people will have it as default. Click on Add photos and videos, and select the .avi which you have just created. Once the video is added, click on it, and then head to the edit video tools tab and change the speed to x 0.125 – making your video 8x longer than it was originally. Head to the file menu and click on 'Save Movie' choose either for computer or high definition display and click save. 
You will now hopefully have a video which is aesthetically pleasing an long enough for presentation purposes. It is also a good way to share your solar study with others, and to analyse the solar and shadow settings over a full day, in a particular view in Revit. My example is slightly jumpy as the frame rate is set to low. Play around with the settings yourself until you find the result you are looking for. Any questions, leave a message or contact me on Twitter.