Autodesk – Security and the Cloud
Like it or not, as a technology professional, the cloud WILL become part of our every day work in the near future – if it's not already! Many applications which you currently use may already use cloud technology without you even realising it. Security issues are of course a big concern when moving forward with tecnolgoy and into new ways of working. There are many questions that need to be answered in order to make the cloud user feel like their sensitive data is secure.
Autodesk 360 is a completely cloud based service – offering many tools for use in the AEC industry. The huge advantage of the cloud is the speed and efficiency. Instead of using your own PC for intensive tasks such as rendering and interactive energy analysis, you are able to utilise the massive power of the Autodesk cloud servers and computers. This will not only be a faster process, but also leave the computer your working on free for use on other activities.
Autodesk have released a document which was discussed on the 'Introduction to Autodesk BIM 360 webinar' earlier today, which was recorded and will be released publicly, next week (week 5). In this document 'Autodesk 360: Work Wherever You Are – Safely', it discusses the security technologies that are employed on the Autodesk cloud servers as well as suggesting that the cloud is a SAFER way to transfer and share files than the traditional methods we are used to: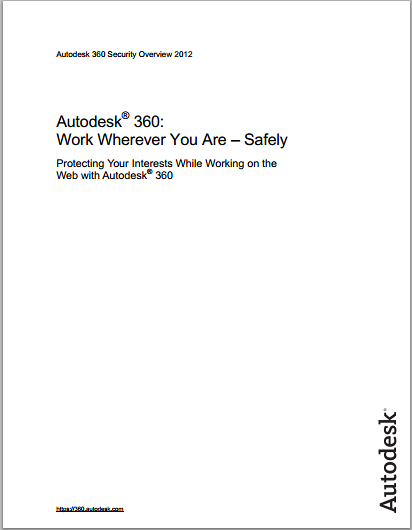 There"s trust in being close. Many people associate their local workstation"s or PC"s content as safer than their files on the Internet. This isn"t always the case. Often computers are susceptible to security risk because their files aren"t fully protected against unauthorized access and intrusion. Furthermore, as files are transferred across the networks, they can become compromised if not done so in a secure manner. With Autodesk 360
The platform is built on a reliable, protected technology infrastructure specifically built just for cloud computing. 
You control who has access to your data, when you share it, and who you share it with.
You can access it from anywhere through an Internet connection after providing your login ID and password securely.
The services are designed to protect data and authentication in transit.
For more information, read the full .pdf document on the Autodesk website HERE or by clicking the image above.