Autodesk FormIt challenge – designbymany
I'm sure you've all heard of Autodesk FormIt by now – The new tablet based geometry creation application for designers. FormIt is the first 3D modeling tablet app aimed primarily at the AEC industry. if you haven't already seen FormIt in action you should check out the video below, but in short: It's a cut down version of Vasari with simple geometry tools (extrusions/voids) which are fully controllable via a touchscreen with your fingertips!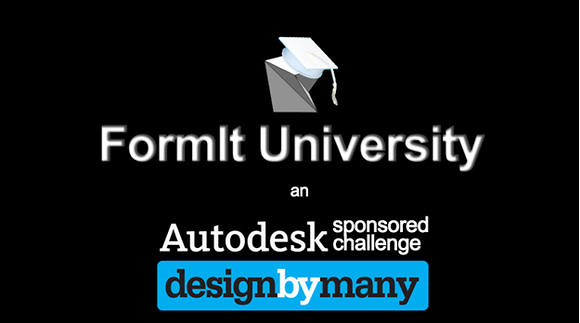 Well, designbymany have issued a challenge under the title 'FormIt University'. The competition is open to anyone (providing you own an iPad and a copy of the FormIt app). The brief is to design a school campus in Mumbai which will be assessed by a panel of familiar faced judges! There are no design limitations aside from a few requirements with rooms and meter squared usage. As far as the aesthetics of the campus goes, you are advised to create a unique building which will stand out as a land mark in the area. Exact coordinates are given in order to virtually locate your model accurately.
The winner of the competition will be presented with a full 1-year license of Revit Architecture 2013! An excellent prize, no matter who you are! As it stands, there are only 8 people participating in the challenge, leaving a chance for you to submit your design and stand a good chance of winning. If you have an iPad, download format and get modeling! The submission deadline is January 14th 2013 so I'm frantically trying to get my hands on an iPad before then :)
The video above is an interview from Autodesk University with Tom Vollaro, one of the developers of the app and a judge on the designbymany challenge (You may recognise him if you've been watching the Vasari talks). Tom has also been working on the development of Vasari, so the similarities between these applications is to be expected. You can also see a number of designs made with FormIt on YouTube, as well as some excellent tips on Dave Lights Everything Revit blog which is linked on the side of this page. 
Submission:
Post submission in .AXM file format (required)
Post images (required)
Post concept diagrams (optional)
Judges:
Rebecca De Cicco – KSS
Aaron Maller – Beck
Tom Vollaro – Autodesk
DesignbyMany Users – Community voting will be taken into account for the final winner
Deadlines:
All designs must be submitted by Monday, Jan 14th, 2012 @ 11:59 PM (GMT -4)
Community voting will end on Monday, Jan 21st, 2012 @ 11:59 (GMT -4)
See the full brief, view participants, judges and enter for yourself on the designbymany site here.